On this part of our website you can view over hand-crafted jewellery, home craft, sculptures and garden accessories.

Copper Jewellery.  Hand-crafted natural patina copper necklaces and bracelets.  Our original designs feature free-form copper wire-work set with semi-precious stone beads. Our inspiration comes from British woodland and hedgerows, capturing the essence of the natural world.  Our pieces reflect each of the seasons, with spring-time dew, budding blooms and ripe harvest berries. Our love of the countryside is captured in each hand-made design.
---
Chinese Jade Jewellery.  Chinese Jade (Jadeite), African Jade, Australian Jade and Peace Jade hand-made jewellery pieces for women.  Our Jade collection celebrates the muted watery colours of soft Jade stone. We love to combine them we contrasting colours and textures of patina copper and natural raw leather. View our collection, each piece is unique in design. We are fascinated with using Jade stone in our work.
---
Jasper Jewellery.  We love jasper stones, our jewellery designs feature many types from ocean jasper, Picasso jasper, snake-skin jasper to old wood jasper. The earthy, grounding and natural tones of this semi-precious stone help our pieces come to life, with subtle streaks, shaded depth and dappled shades. View over our jasper collection of hand-crafted bracelets and necklaces for women.
---
Quartz Jewellery.  Our jewellery designs feature honey quartz, rose quartz and clear quartz. We love the warm translucent colours found in quartz crystals, these contrast well with metallic patina copper. Combining textures, forms and colours is what makes our pieces stand out, we create striking bespoke and limited designs not found on the high street.
---
Natural Bracelets.  Hand-crafted women's bracelets that are earthy and muted in style. Our designs combine raw leather hide with semi-precious stone beads and copper.  We enjoy creating limited designs, that are not seen on the high street and incorporate different styles of braiding into our bracelets. Our inspiration comes from the natural world, whether the land or ocean.
---
Natural Necklaces and Pendants. Our designs are bespoke creations that are reminiscent of summer landscapes, lakes, beaches and mountains.  We contrast natural hide leather with semi-precious stones and copper which gives an earthy and natural style of jewellery. We love how the warmth of leather, contrasts with the semi-precious stones and dappled patina copper, sitting against the softness of the skin.
---
Artisan Sun Catchers. We lovingly hand-craft sun-catchers and window hangs.  Jewellery can be a very personal gift to buy for a friend or loved one.  Choose a one of a kind unique birthday present or Christmas gift that will light up a window with beautiful semi-precious gem stones and natural themes.  From butterflies, red robins to rain drops, our sun catchers bring the outside garden to your interior.
---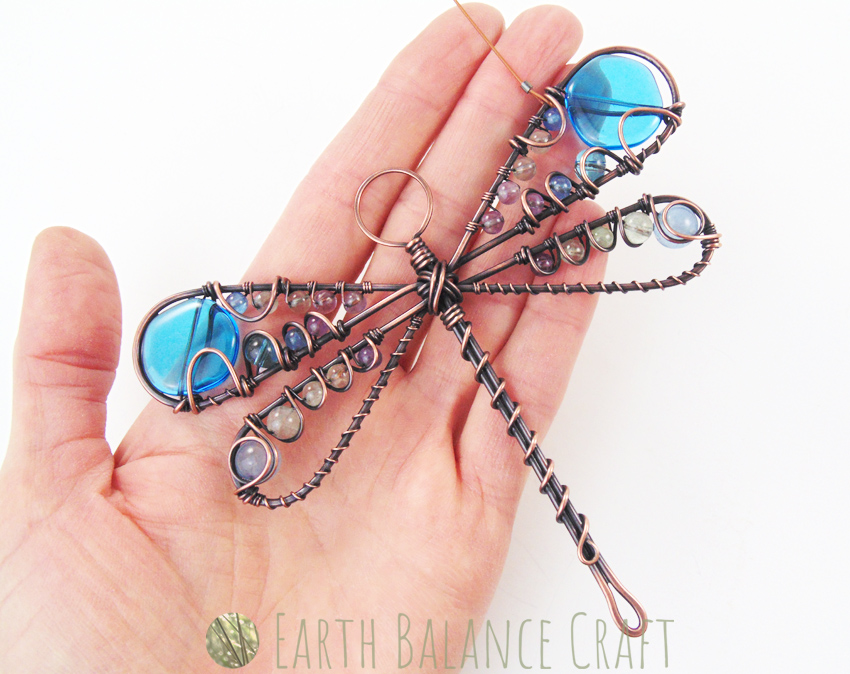 Home and Garden Ornaments.  Our artisan copper wire craft skill extends to decorative ornaments inspired by the beauty of the natural world from birds and animals to plant-life. We love the simplicity in materials and complexity in design of patina copper wire-work.  We create hanging and standing ornaments that can be displayed in the home interior or outdoors in the garden. Each piece holds tremendous detail, from the design concept sketches to the final patina polish, we are proud of our bespoke ornaments.
---
Love Hearts for the Home and Garden.  Home decor just got more exciting. Our hand-made copper wire and semi-precious stone designs can be hung on the wall or out in the garden, they make the perfect gift and come in a variety of sizes and designs.
---
We sell online through Etsy and via our Earth Balance Craft website (click on the online shop tab above).