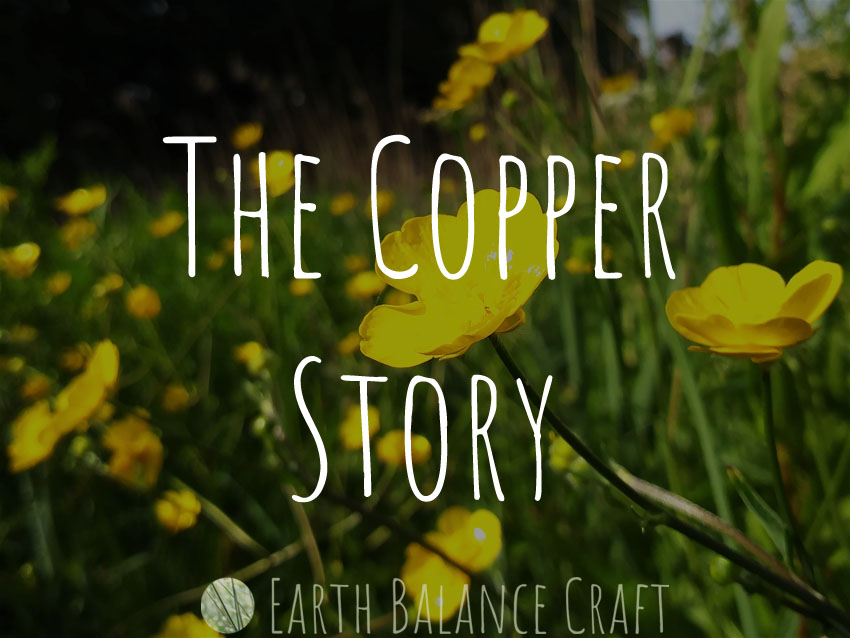 The Copper Story
Using Copper in Artisan Crafts
Here at Earth Balance Craft we have a passion for using copper metal in her jewellery, decorations, mobiles, suncatchers and art.  Read here about the process I use when working with raw copper wire and sheet metal in my designs.
Nude Copper
Copper in its' natural state is shiny and raw.  It is a soft metal that is easily malleable either by hand or with pliers and metal forming tools. All of our designs are hand-made using raw copper, whether sheet metal or copper wire.  The copper is sourced from UK companies that supply the industrial trades. Visit our range of downloadable tutorials here to learn how to make our designs.
Patina Copper
It's a lengthy process to make shiny new copper look yummy, in a weathered way.  To take a piece from raw copper to the end varnished product can take longer than it does to make.  We think the result is worth it!  Out in the wild, raw copper will form a natural aged patina over time, getting darker and darker as the copper metal reacts with the oxygen in the air, similar to a tarnish.  We reduce the time that natural patina takes by using the chemical liver of sulphur, bathing the pieces in a long and relaxing soak in the hot patina solution. An oxidised patina finish is achieved easily, covering the copper in varying colours depending on the temperature and duration the piece is soaked in the solution. I like the dark black mat patina the most, to get as much contrast when polished as possible.  Other colours can be achieved from reds to browns.
The copper is usually air-dried for a few hours to allow the patina to settle, then polished with a jewellers polishing cloth that helps remove the patina finish on the raised areas to reveal the bright copper lustre again. As little or as much patina can be rubbed away, the crevices and indents will retain the dark patina as you cannot reach these with the cloth, this creates beautiful weathered contrast and textures in the finished piece.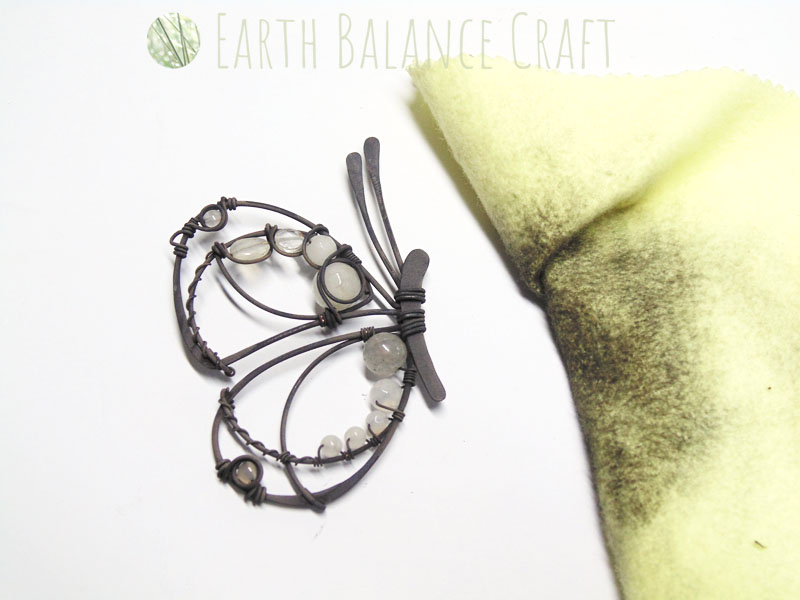 Sealing the Patina
The last stage is to set the piece with one of four finishes.  All metal varnishes are semi-permanent, read more about caring for your copper product here.  Visit this link to find out why your skin turns green when wearing raw copper jewellery.
1)  Renaissance Wax. A museum artefact hard wax that is applied by hand with a cloth/toothbrush over the design, which helps to reduce down the time a natural patina forms on the copper. As with all metal sealants this is not permanent and will wear off in time.  Further coats can be applied and buffed to return the piece to its originally beauty. This is a fiddly job, as the wax is in a hard state which is difficult to reach all parts of the metal work and can leave traces of white residue over the copper metal if not applied and buffed thoroughly.
2.) Protecta Clear. A high grade liquid varnish that is non yellowing varnish and safe to wear against the skin.  We use the highest quality varnish available on the market which gives the piece a super glossy finish. It seals and protects copper sheet and wire from tarnish, oxidation and corrosion. This is applied by hand with a brush twice, which is quite time-consuming to achieve an even finish.  It has a curing time of 5 days and needs a bit of baby-sitting over the first few hours to control drips, but the super glossy finish is just perfect!
3). Rustins Lacquer. A liquid gloss varnish that is also painted on with a foam brush and is used for craft and decorative items.
4). Rust-Oleum crystal clear spray is a quick-drying, non-yellowing, durable clear top coat for metals.
Here's an example of the start to finish of a copper wire decoration from construction to patina, polish and varnish. For more work in progress copper wire projects view over my 'The Making Of' webpage.
'Ta Da' -  Finished Pieces!
Raw Copper Designs
A variety of my designs are for arthritis sufferers, where the copper is left raw without further treatment or varnish.  After the metal has been formed, it needs a good old-fashioned sand to remove scratches and any marring of the metal, then onto the grubby part; a polish with a flexi-shaft tool. Using a variety of different polishing pastes to bring the metal to a high lustre shine that is ready for its' new home.  For more after care advice in getting the best from your raw copper designs visit this page.