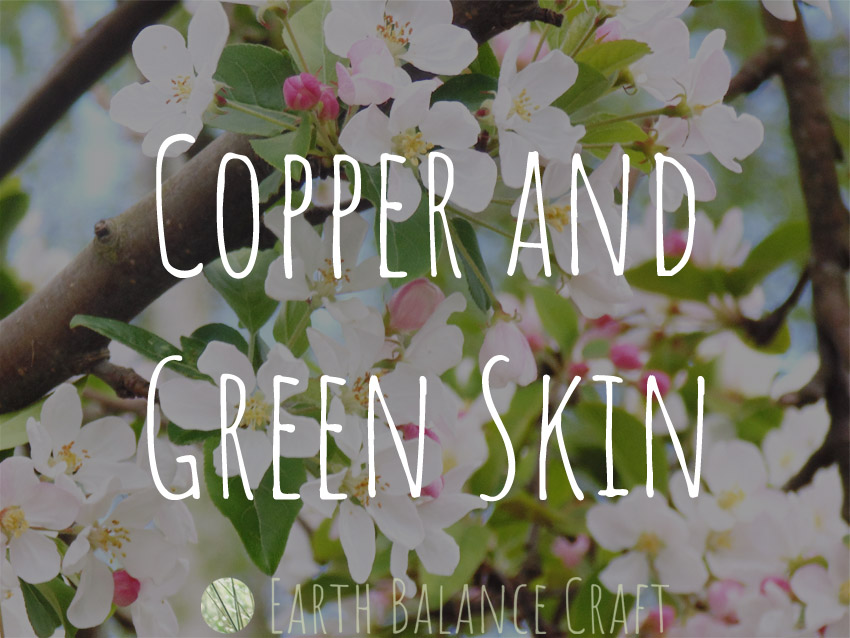 Why Does Copper Turn Skin Green
Raw copper that is used in jewellery can often turn your skin green. Why is this? When copper is exposed to an environment e.g. air (oxygen), acid or chemicals, as a base metal it goes through a reaction that changes the surface.
Our body acidity relates to our diet. A diet that is high in processed food, red meat, convenience and junk food will make you body more acidic. A highly acidic body is seen as being bad for your health, and can be an indicator of ill health that is on its' way or that it has already arrived.
Oxidisation is the natural process that occurs when copper is exposed to the air. The oxygen content in the air starts to cause a chemical reaction on the surface of the copper which creates a darkening of the shiny surface, known as a patina. It is a discolouration that forms over time until the copper goes completely dark and dull.
When our body sweats copper jewellery will naturally react with the oxygen in the air, the oils on our skin and the salty acidic water that makes up our sweat. Over time this causes a blue-green discolouration on the copper, which when worn against the skin rubs off and forms a coating on the surface of the skin. Each individual has different body chemistry which creates a variety of effects when wearing copper jewellery.
There is also an abundance of other chemicals on our skin that adds to the chemical reaction in the copper metal, from perfume, soap, moisturiser to make-up. This can add to how fast the oxidisation process occurs, or to what extent. Everyone is different.
Copper Jewellery At Earth Balance Craft
All of our designs begin with raw copper metal. In our bracelets, earrings and jewellery designs the feature is solid copper, whether wire or sheet copper. In our jewellery designs any chains will be copper plated that are lead and nickel free. In our earring designs, the ear wires are always hypoallergenic nobium metal, again lead and nickel free. We do not use copper for ear wires. Read more about using copper in our designs here.
Untreated Raw Copper Jewellery
The only designs where the copper is left raw and untreated is from our range of arthritis bracelets. Raw copper is known for its' ancient healing properties, it is rumoured that the mineral can be absorbed into the skin when worn as jewellery, and is associated with relief of symptoms of arthritis and poor circulation. In the metaphysical world copper is said to aid energy flow, amplifies physic abilities and helps with communicating with other dimensions. Seen as a grounding metal, the vibrational frequencies can move between the spirit and physical realms.
Our arthritis bracelets are not treated with a varnish or lacquer so as not to reduce down the associated medical benefits. This means the raw copper metal may turn the skin green and the piece will tarnish, forming a natural dark patina over time and will be prone to fingermarks. We do not claim any medical benefits, please consult with your doctor prior to purchase.  For more after care advice visit this page.
Treated Copper Jewellery
Aside from our arthritis range, all of our jewellery designs are treated with an artificial patina solution, that prematurely darkens the piece. The metallic highlights are then revealed once again through polishing and each design is sealed with a high grade jewellery gloss varnish or a hard wax.
Any varnish or wax used on metal is only a semi-permanent treatment, as over time the treatment will degrade through exposure to the oils and chemicals in our skin. The piece can be re-coated as needed.  Designer Nicola offers a re-varnishing service, please contact her for details.  Our jewellery is given two coats of varnish as a minimum, which adds a glossy shine to the piece and helps to reduce down the natural patina process and also the likelihood of your skin turning green.  The varnish creates a barrier between your skin and the copper metal.
Depending on the acidic levels in your body, some people do experience discolouration of the skin with a green/blue tinge when wearing jewellery that has been coated in varnish. This is a natural harmless reaction called 'oxidisation' when oxygen and your body's natural oils combine to create a layer of copper carbonate on top of your skin. Most likely found when wearing rings and bracelets that fit snugly against your body causing you to sweat between the copper and skin. This is not a copper allergy, as it is rare to be allergic to copper due to its anti-microbial properties.
A tip to avoid the discolouration is to keep your jewellery piece clean and to remove the piece when asleep. For more after care advice for your copper pieces please visit this page.