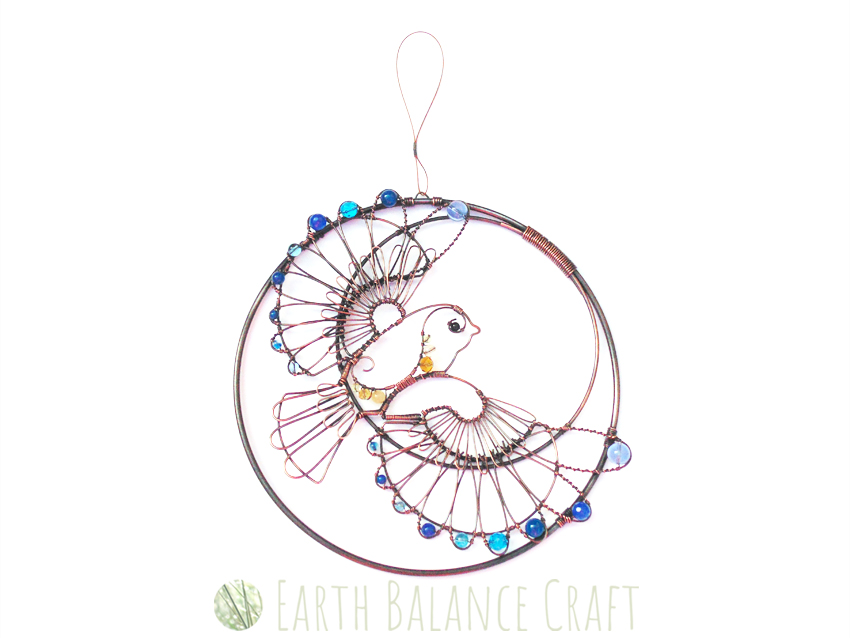 Blue Tit Suncatcher WIPs
Celebrating the beauty of British garden birds
Here's a look into the copper wire work process during the making of my 'Blue Tit in Flight' suncatcher decoration. This piece was one of the most complicated designs I have made to date, and was born from a love of watching birds in flight.  I love the contours that bird wings make when flying, so I took this image and broke the layers of feathers down into simpler oval shapes that create each wing. Fast forward with several metres of copper wire, I then decorate the design with pretty blue and yellow beads that show the distinctive plumage of the common blue tit.
Ingredients:
Many many metres of dead soft raw copper wire to create the hoop, wings, the trunk and adding the decorative detailing.
Glass and semi-precious gemstone beads.
Liver of sulphur liquid to prematurely patina the piece to black matt.
Polishing cloth to restore the metallic highlights.
Liquid metal varnish to seal the design.
This design has now sold, and is hung on the wall of a very talented British artist, where it is loved and cared for.
– Be inspired by my work, for personal use only –
---
My blue tit in flight was featured as the 'Daily Deviation' on deviantart.com and here is what they said…
"Blue Tit in Flight by EarthBalanceCraft manages to capture the liveliness of the bird in flight in wire and beads. There's an organic sense of hope and freedom that can be felt by this little bird taking flight. And that is very rare in wire-based art."