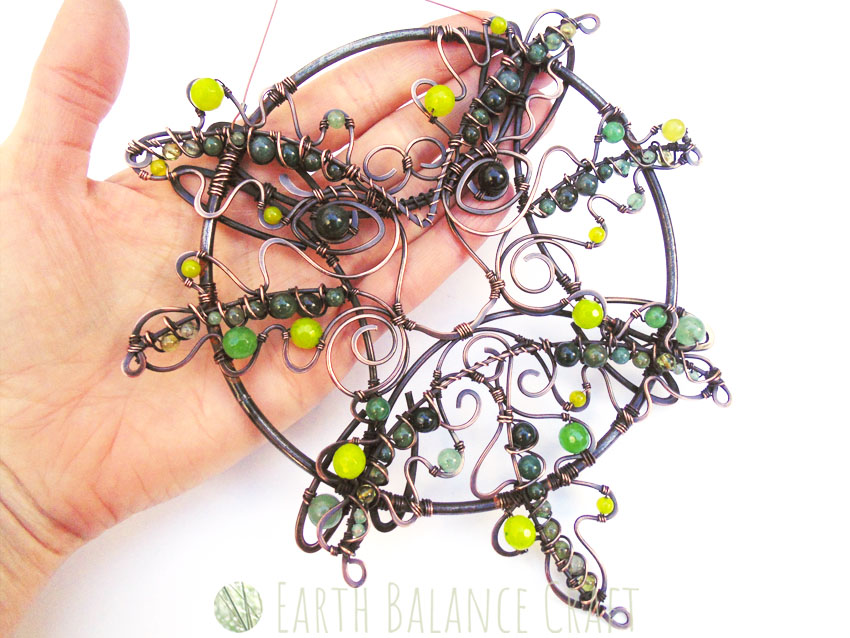 The Making of the Green Man

A mammoth challenge, to make a green man decoration out of copper wire and gemstones. This design has been on my mind for a long time, yet knowing how difficult it can be to use wire-work to bring my ideas to fruition, I knew the task ahead would be tricky.  In my work there is no soldering, it's all wire wrapping and cold hand forming. Structural intergrity is the hardest part, where the concept versus reality battle it out trying to keep the design stable/secure, so that it has longevity.  Symmetry is also difficult in larger wire-work pieces, especially when the pieces are reliant on each other for support. Pull one way when wrapping and it moves too far left, pull the other way it move right, and so on.
So after much blood, sweat and tears, and a few weeks of experiementation, here's my work in progress photographs and the finished piece. I am pleased with how he looks, he retains the classic features of a pagan green man with pretty oak leaf shapes and the grandeur of the old oak king.
He is available to purchase in the webstore.  To view over a variety of other artisan copper wire-work jewellery and craft projects click here, and for my range of downloadable craft tutorials visit this page.
Do you like my blog? Help support me on Ko-Fi!
---
Product Design and Photographs © Earth Balance Craft 2018 All Rights Reserved
– Be inspired by my work, for personal use only –