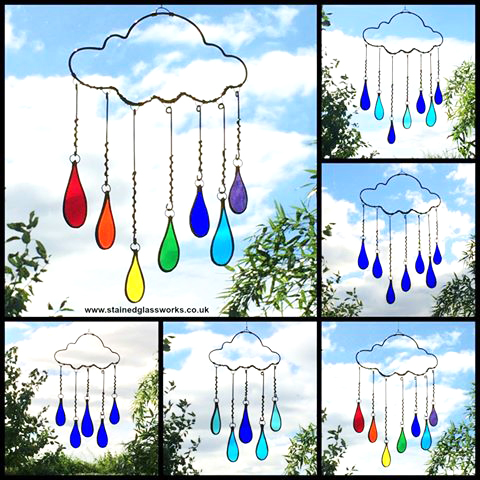 I am very excited to share with you all today, a collaboration of British artists.  These stained glass rain drop suncatchers are what happens when two creatives get together.  The beautiful stained glass droplets are by Grainne at Glassworks and the copper wirework is by me, Nicola here at Earth Balance Craft. I have to thank the glass artist Grainne for coming up with the idea of combining our crafts.  Visit the range of Rain Drop Glass Suncatcher's in the Glassworks web store.
Grainne, the glass artist is the owner of Glassworks and her designs can be found on the web here:
www.facebook.com/stainedglassworks.co.uk
www.instagram.com/glassworkscreations
My blog followers may recognise my copper wire work cloud frame from my ever popular decorations, the 'little rain cloud suncatcher' and my 'rainy days suncatcher'. Well as of now, they have had a huge arty upgrade and I am so happy with the results. Visit these links for more rain, cloud and weather inspired creations that celebrate the great British weather.