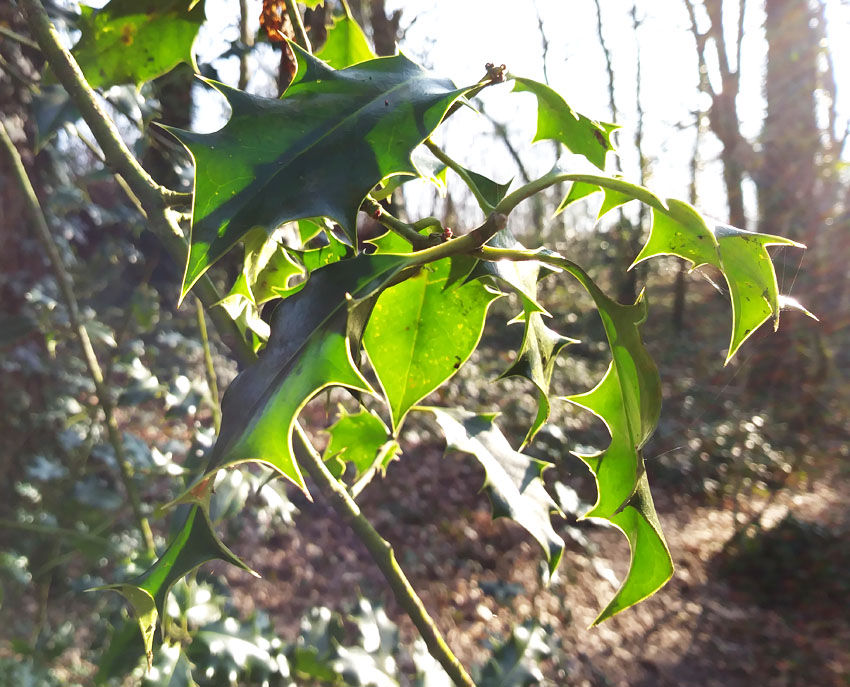 A More Traditional Christmas
Here is a copy of a magazine article I wrote in 2008 about opting for a more traditional and less wasteful Christmas.
"Back to the Future - Treat yourself to a stylish traditional Christmas this year, writes designer Nicola.
Most of us look forward to Christmas and spending time with family and friends, but the season of goodwill is not so friendly on the planet. In fact with all the tinsel, packaging and twinkling lights we surround ourselves with over the festive season, Christmas is one of the worst offenders when it comes to caring for the planet. But you can have style at Christmas and keep your eco credentials if you add traditional touches like holly, berries and mistletoe rather than using synthetic material. For the environment, a traditional Christmas means less demand on non renewable resources like fossil fuels, less demand on the new manufacture of products (say no to consumerism) and when Christmas has past, less demand on landfill. Now isn't that a gift in itself?
And if you adapt your Christmas by using more traditional decorations you will also save energy costs, help maintain air quality levels and to reduce damage to the environment. The important thing to remember is that any change you make will help. We've found six easy steps to going greener and feeling better over Christmas.
Energy
Christmas is an energy guzzler even before you add rising energy costs. It's easy to see how our energy usage quadruples over the festive period. Cosy Christmases need extra heating, TV, internet, computer games, lighting, cooking, hot water, don't they? But you can also look for ways to enjoy the Christmas without spending a fortune on fuel or costing the planet. Try turning the heating down a few degrees, put that Christmas jumper on and carry out a winter home check before the season begins.
Decorations
The key to a more natural decor is to reduce synthetics and buy biodegradable. Relive traditional customs with holly, berries, ivy, pine, mistletoe, pinecones, nuts and kitchen spices such as cinnamon sticks, nutmeg and cloves. It's easy to bring in rich aromas associated with Christmas, without the chemicals. Reject tinsel and baubles for an indoor winter garden. Drape picture frames, make pine wreaths and create table dressings from natural beauty. Try not to cut down local shrubs and make a note to buy planting in advance for next Christmas.
Use waste or recycled paper for paper chains and be inventive with decorations. Edible decorations are perfect for children with time on their hands and there should be little waste! Handmade gingerbread men, mini cup cakes or traditional white sugar mice hung by string on the tree.
Christmas Lights
Is it really necessary to turn your home into Santa's grotto all day everyday for the entire Christmas season? Lights are usually kept on for 5 more hours a day during the winter, and that's not including Christmas. There are alternatives, why not have a tree without lights? You can use reflective decorations, mirros and bright colours, or choose energy saving LED fairy lights (up to 90% more energy efficient). You can also make some adjustments to compensate for the extra lighting. Switch a light that has a 100w bulb to a 20w energy saving CFL bulb – with the energy saved, this will power 1-2 sets of fairy lights.
Window dressings
Most of us have a summer and winter wardrobe. Why not carry this into your home with window dressings for different seasons? Keep your home cosy in winter by insulating against the cold with another layer or two on your windows. Extra curtains, blinds, net curtains, drapes etc – create pockets of air which keeps the warmth in and the cold out. Indulge in naturally insulating textiles such as wool, silk, linen and jute, which will outlast most synthetic materials and area a healthier choice.
Christmas Trees
Nothing is more festive than a real fir Christmas tree. Most are grown in tree farms and not taken from the wild. Potted trees tend to do better inside though, and are a more sustainable option so you can replant it come January. Alternatively, keep the tree in the garden where it belongs for real longevity. NEVER throw the tree into landfill. Instead hire a wood chipper and create aromatic garden mulch, or dispose of the tree responsibly at a recycling facility. Artificial trees are a horror of petroleum based materials and energy intensive production methods. That 'just out of the wrapper' plastic smell is concentrated levels of toxic vapours (VOCs)."