I love everything rain! I am truly a water baby, so whether it is the ocean, rivers, streams, lakes, ponds, rain, puddles and so on, I am constantly inspired by all things watery.  Many of my copper wire-work designs use the weather as my muse, so this month in April which is renowned for being very wet and rainy, I am sharing my rainy water inspired designs. Enjoy!
---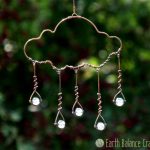 One of my most popular creations is this little hanging rain cloud.
Featuring five kinetic droplets of sparkly glass rain drops that sway gently with movement.
---
This design is the 'mother' rain cloud, the larger of my two cloud decorations.
Featuring seven kinetic droplets made up of wire paddles and opalite and Czech glass beads.
---
This necklace is adorned with beautiful shimmering grey moonstones beads.
Wrapped with oxidised copper wire work that gently frames the decolletage.
---
This design follows those familiary curves of fluffy grey clouds.
Featuring ten kinetic droplets of gemstone beads that glisten like rain falling to the ground.
---
A pretty necklace design with rolling rain drops off a tree branch.
Adorned with moonstone, amazonite and Chinese jade watery beads.
---
One of my whimsical hanging decorations, outlining the curves of an umbrella.
Featuring seven hanging rain droplets that sway with gentle movement.
---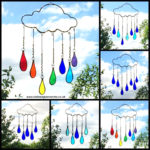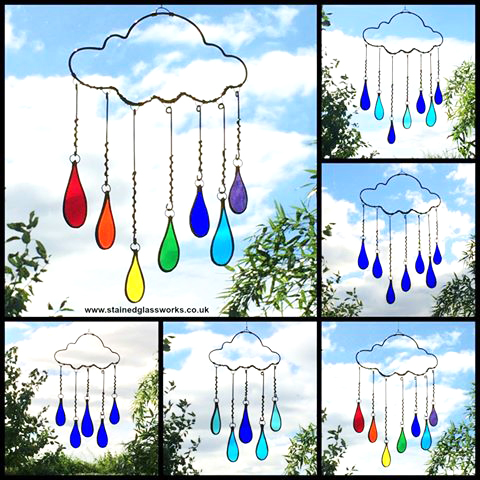 A collaboration of British artists, Grainne from Glassworks for the stained glass droplets and Nicola from Earth Balance Craft for the wire-work clouds.
Using the classic rain cloud shape with a variety of coloured droplets.
---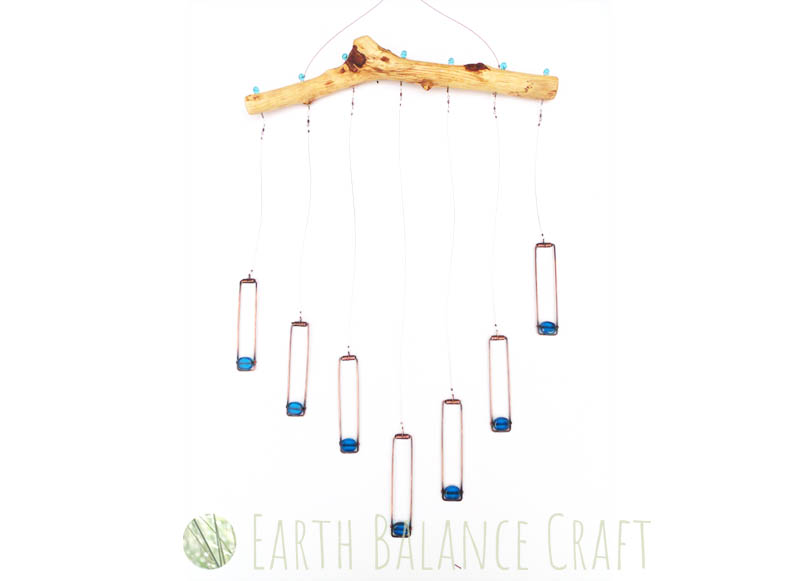 Rain Drops Mobile
An abstract contemporary take on falling rain drops.
Featuring seven hanging droplets with cobalt blue table-cut glass beads.
---
A luxury hanging mobile with 19 cobalt blue droplets.
This is the largest mobile I currently make, and is beautiful in the home.
---
This statement necklace design features spiralling circles and gemstones.
Inspired by the looming sight of stormy grey rain clouds that frequently grace our shores.
---
This pair of earrings are part of my matching jewellery set 'Leafy Drop'.
With a delicate moonstone bead that represents a rain droplet rolling off a branch.
---
This design has five opalite rain drops that are rolling off oak leaves.
A little hanging decoration for the home.
---
For hobby wire work artists out there, learn to make my little rain cloud.
This downloadable tutorial will take you through the complete process step by step.
---
Stormy weather ahead! This decoration draws inspiration from thunder clouds.
Featuring a sparkly lighting bolt that sways gently.
---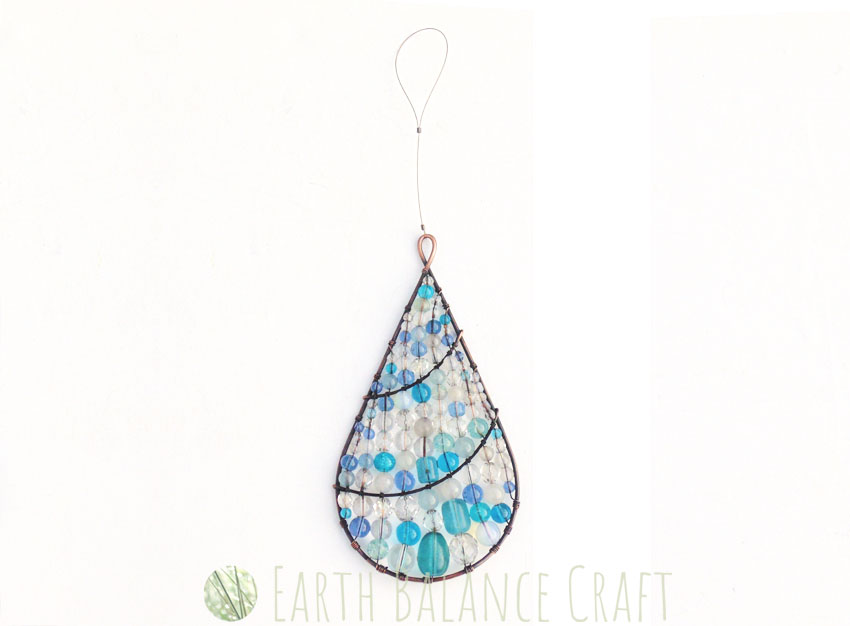 Dew Drop Chandelier
A large water droplet adorned with gemstones, sea glass and Czech glass beads.
This hanging decoration loves a sunny window.
---